A screen-free audiobook
The Real Family Christmas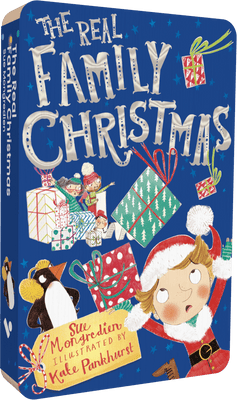 Join in the fun with these three funny, festive stories about Father Christmas and his bonkers family - nothing goes to plan when the Christmases are about!
Disaster strikes when Nick (a.k.a. Father Christmas) catches the flu just before Christmas day, meaning that it's up to his fun-loving younger brother, Harry, to save the day in 'Uncle Christmas'. 
In 'Granny Christmas', Nick and Harry's Granny turns up with her grumpy pet penguin, Percy, causing chaos with her inventions and nearly ruining all the careful preparation the boys have done! Can Granny Christmas prove to her grandsons that her inventions are more helpful than harmful? 
Pandemonium ensues when the whole extended Christmas family unexpectedly turn up for the festive season in 'Real Family Christmas'! With their parents, Uncle Rufus and Aunty Ruby, three wild cousins, Great Uncle Alf and seven-year-old Ivy all staying, how can Nick and Harry make sure that Christmas goes smoothly this year?