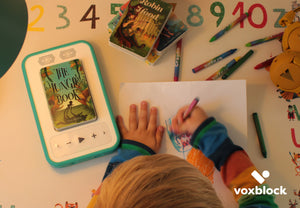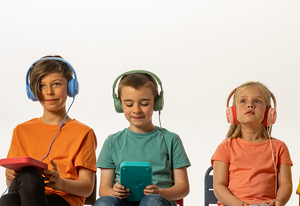 Our approach
Our commitment to sustainability has three main aspects, making sure Voxblocks find the right home, conscious design practices and longevity - keeping Voxblocks telling the stories they were created to tell.
Finding the right home
With our 100 Day Happiness Guarantee we make sure Voxblock is the right fit for you and your family.  We're confident you'll love Voxblock, but on the off chance it isn't for you, just send it back within 100 days, no questions asked for a full refund.
Conscious design
Sustainability starts with the design of our Voxblock players, books, and packaging.

Our players have a minimalist design, using the fewest possible component parts, meaning they are easily repairable and ensuring a long life.
Our audiobooks are made from eco-friendly materials, crafted from 97% recycled paper and card held together with biodegradable glue. 
We use 100% recyclable and plastic free packaging.
Keep your player telling stories
Forever repair
If an accident happens and your Voxblock needs some TLC, send it back to us for a repair.  With our Forever Repair Service we're always on hand to get your player back to telling stories.
Reuse
Children grow up and interests can change, if you are ready to move on from Voxblock we will always want your player back to refurbish it, and pass it on to another child to continue to enjoy it.
Pass it on
To get your player back to us, use our Free Return Service. Contact us here and we will send you a pre-paid shipping label. Sending your player back means it can be used and loved by other children.