A screen-free audiobook
Escape the Rooms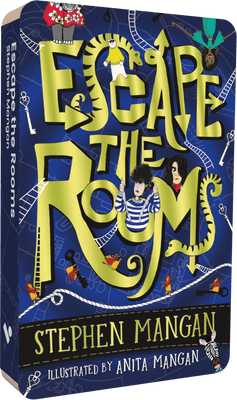 A high-energy, laugh-out-loud adventure story by much-loved actor Stephen Mangan.
The last thing Jack expected when he bungee-jumped at the fairground was to go plummeting right through the ground into the weird, wonderful Rooms....
There he must face a series of puzzles and traps alongside a mysterious girl called Cally, in order for them to find their way home. Throw in a murderous polar bear, hundreds of tiny yet ferocious lions, some mind-blowing riddles, and get ready for a hilarious, helter-skelter adventure like no other!
©2021 Stephen Mangan

℗

2021 Scholastic Children's Books UK
Read by
Stephen Mangan
With a vibrant and expressive voice, Stephen Mangan brings depth and authenticity to his audiobook narrations, creating an immersive and enjoyable listening experience. As a talented actor and stor...

Read more