A screen-free audiobook
Hotel Flamingo: Carnival Caper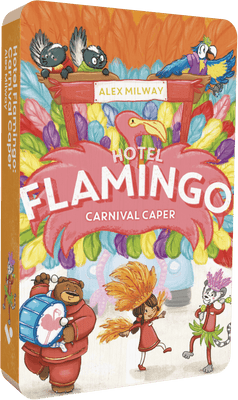 It's the end of the summer, which means it's time for Carnival! And Hotel Flamingo, the sunniest hotel in town, is all set to join the party. Animal Boulevard is a riot of colour, and every establishment is preparing a float for the annual procession. Anna is determined to win the prize for Hotel Flamingo for the best display, despite rival hotel the Glitz having won it every year since the Carnival began.
But disaster strikes! The rainy season comes early, and high winds and torrential rain lash down across the Boulevard. Can Anna save the Carnival and the day?

Read by
Sarah Ovens
Sarah Ovens's captivating narrations make audiobooks a captivating and enjoyable choice for listeners. With a background in performance and a love for literature, Sarah infuses her narrations with ...

Read more