A screen-free audiobook
How I Became a Dog Called Midnight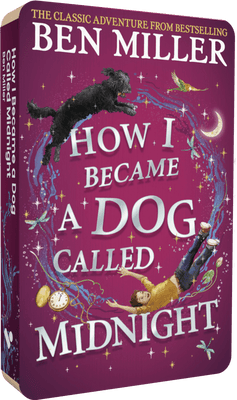 A boy, a dog, and a magical body-swap adventure! Enter a world of wonder in this classic adventure from top-ten bestselling children's author, Ben Miller. 
George has always wondered what it's like to be a dog. One night, a magical mix-up with an enchanted fountain means he swaps places with Midnight, a huge and loveable hound!  Becoming a dog is an amazing adventure, until George uncovers a plan that could threaten Midnight's home.  Can the two friends save the day before the clock strikes twelve and leaves them stuck in each other's bodies forever?
A magical race-against-time for a boy and his dog best friend – discover the funny and heartwarming classic storytelling from bestselling author and beloved actor, Ben Miller.