A screen-free audiobook
Maggie Sparks and the Monster Baby & Maggie Sparks and the Swimming Pool Sharks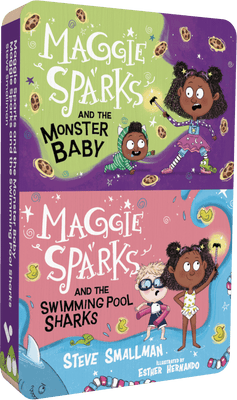 Maggie Sparks is a mischievous little witch who turns every day into an adventure... With just a little bit of magic! This block contains the first two instalments of Maggie's adventures.
Maggie Sparks and the Monster Baby:
Maggie Sparks does NOT want a baby brother! 
Especially not one who is noisy, smelly and gets ALL the attention. 

The good thing is, Maggie's a witch. A super powerful, super smart, super talented witch … who sometimes gets her spells wrong. But that won't stop her finding a way to win back her mum and dad from the evil monster baby. Especially when she's got Bat, her pet chameleon, to help. 
Maggie Sparks and the Swimming Pool Sharks:
Maggie Sparks does NOT like swimming!

It is cold, wet and worst of all, she is not very good at it.
So when Mum decides to sign her up for swimming lessons, Maggie is not happy. She is determined to use her powers to get into the elite Sharks swimming group and help her best friend, Arthur, along the way.
All she needs is a little magic…
Read by
Vanessa Labrie
Vanessa Labrie's captivating narrations make audiobooks a captivating and enjoyable choice for listeners. With a background in performance and a love for literature, Vanessa infuses her narrations ...

Read more