Featured Nadia Shireen Audiobook
Grimwood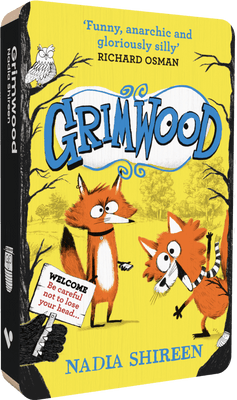 Laugh your head off with this new series, adapted for audio, from award-winning Nadia Shireen. Perfect for listeners aged seven to 107, fans of Dog Man, Roald Dahl, Mr Gum and David Walliams, and anyone who loves to laugh. 
Fox cub siblings Ted and Nancy are on the run from Princess Buttons, the scariest street cat in the Big City. They flee to Grimwood, expecting to find refuge in the peaceful countryside. Instead, they are met with thieving eagles, dramatic ducks, riotous rabbits and a whole host of unusual characters. Grimwood is...weird. But when Princess Buttons tracks them down, Nancy and Ted and the animals of Grimwood must unite in a mind-bending race against time....
This memorable, distinctive and warm-hearted comedy series will have kids begging to hear more.