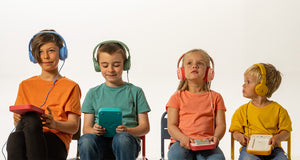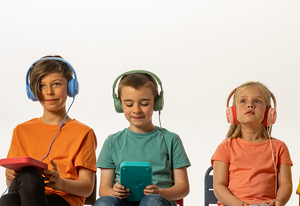 no screen, no connection, no distraction
Nope. The audio is physically stored on each block, meaning that we are completely connectivity free. There is no wifi or apps to configure and the Voxblock player just plays the blocks as soon as they are inserted.
You charge your player using a USB-C cable provided and any USB wall socket or brick.
How does Voxblock work?
Each story lives on a beautifully designed tactile block, which slots into the player. You can pause or switch blocks at any time, returning to where you left off automatically next time you listen.
No app, no download, no setup. Just play and go. Anywhere, and everywhere.
It's safe
Voxblock does not require an internet connection. That means no privacy concerns, no software updates, and no risk of inappropriate content.
Ideal for playtime
Simple to use
Just pick a block, place it in your player and play. No need to rely on grown-ups.
Physical and tactile
Children can collect, display and share their stories - unlike with digital files.
Ideal for adventures
Robust
Voxblock's tough construction is made to endure all the rough and tumble kids can throw at it.
Portable
Voxblock is small enough to come with you in the car, on a plane, or on a train, and the battery lasts for days with just a single charge.
Ideal for bedtime
Bedtime mode
When bedtime mode is enabled, your chosen story will play for 20 minutes before entering standby mode.
Glow-free
No screen means no distracting glow keeping kids awake.