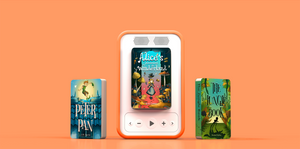 Why Voxblock is the best choice for children
It's screen free No icons, no apps, no cameras, no microphones, no glow affecting children's sleep patterns. Basically, no distractions.
It's simple to use
Just pick a block, place it into your player, and press play. Children as young as three are able to choose their favourite stories and play them, giving them complete independence to use Voxblock without having to rely on grown-ups.
It's physical and tactile
Each Voxblock story lives on a physical block with beautiful cover art, enabling kids to choose stories by picking up an object rather than clicking an icon. Children can collect, display and share their stories - unlike with digital files.
Why Voxblock is the best choice for grown-ups
Voxblock's tough construction is made to endure all the rough and tumble kids can throw at it. And unlike a tablet or mobile phone, there's no screen to smash.
Voxblock does not require an internet connection. That means no privacy concerns, no software updates, and no risk of inappropriate content.
At the size of a paperback book, Voxblock is small enough to come with you in the car, on a plane, or on a train, and the battery lasts for days with just a single charge. It's ideal for long journeys, camping trips or remote locations.
Why Voxblock is the best choice for everyone
The Voxblock player has been designed to be easily repairable and upgradable. Which means that your player should last a long, long time. That's better for the planet, and better for your wallet.
Old or unused players can be sent back to us to be repaired and refurbished.
Refurbished players can be redeployed at a lower cost, helping to make audiobooks as accessible as possible.