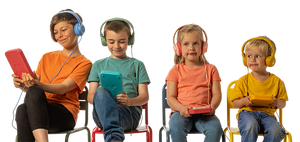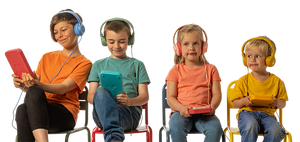 Voxblock for schools and nurseries
Research shows that there are huge rewards to be found by listening to audiobooks, and that it can help unlock a love of reading in children.  We understand that for some children reading is a challenge, and catering for a wide range of reading capabilities within a classroom environment can be hard. Listening to audio helps develop comprehension skills and encourage reluctant readers (The Literacy Trust, 2020).

Voxblock audiobook players can help make your classroom or library an accessible place where literacy skills are built, and stories are enjoyed by all students.
Voxblock in schools
Voxblock is the easy-to-use, screen-free audiobook player for children aged 3-12.  The player has no internet connection; meaning no need for Wi-Fi, apps, downloads, logins or passwords. The players are ready to go straight from the box. As the winner of The Best Kids Audio Player for Ease of Use, The Independent, 2022, children can easily operate the player by themselves. 
Voxblocks are uniquely suited to the school and nursery environment. They can be used in classrooms, libraries, or as part of an SEN or learning enhancement offering. Voxblocks are suitable for an individual student, a small group or a whole class. Their protective bumper, and the robust nature of their design, means they can stand up to a high level of use.
With over 150 stories suitable for children of nursery and primary school age, there are stories for most classrooms. Ranging from short stories, ideal for group listening, to longer chapter books which could be enjoyed by a small group of students, following along with a physical copy of the book. There is also a non-fiction range packed with historical facts, classical music and guided meditations for children. The audio stories come from a wide range of publishers, including Scholastic, Hachette, Harper Collins and Barrington Stoke. 
Voxblock school packages
To find out more or place your order please email schools@voxblock.co.uk to contact our dedicated schools team.
More information
Our Voxblock School Packages are designed for teachers. Each package comes with:
Voxblock players and protective bumpers: Players have both a speaker and headphone jack, allowing independent or shared listening. Protective bumpers come in a choice of orange, green or red.
Audiobooks: Select your preferred titles from our library of over 150 audio stories.
Supporting resources: Containing information on each title you've selected. There are activities and lesson plans for selected titles.
Charging hub(s): Useful for charging multiple players at a time.
Aux cable(s): The cable allows the Voxblock to connect to either a speaker or a screen.
Optional addition:
Headphones: These allow children to listen independently, or as a small group by daisy chaining the headphones together. Schools are entitled to 10% of our range which you can find here.


How Voxblock works
The stories are physical blocks, children can easily identify and select what they'd like to listen to and then slot it into the simple to use player.  
Screen free
100% wifi and connectivity free
Built in speaker for shared listening and headphone jack that fits any standard headphones
Long battery life; 14 hours of play, 25 days of standby
Rechargeable with USB cable included
No set up required, use straight out of the box
Robust and simple to use
Designed with greater sustainability in mind, we have focused on using the minimal number of component parts to create a product that is repairable, with a long life.   Our audio blocks are made from layers of paper, card and printed cover all stuck together using a biodegradable glue and our packaging is also 100% recyclable.
CASE STUDY
Haddington Primary School
Haddington Primary School has had Voxblock in their classrooms since December 2022. They have recently expanded their audio library across the school.
The teachers thoughts
Children showed development in their storytelling skills
Stories have supported classwork
Voxblock provided an additional play-based learning tool
Players have been useful for reluctant or struggling readers
You can read the complete case study below.
Support your school programme
You can work together with parents at your school to grow your library through our "Support Your School" program. Each participating school is issued a unique discount code entitling your parents to £10 off a starter pack. Every time your code is used the school will be given a free audiobook. .